Devon in the picturesque South of England reaches from the Bristol Channel at the top of the county to the English Channel in the south. It's the only county in England to have a non-continuous stretch of coastline on both its most north and south points. Both of its shorelines boast vast cliffs, sandy beaches, fishing towns, ports and limestone.

Limestone is raw mineral and often considered as the world's most versatile mineral. It's used in a wide variety of applications but is primarily used in the construction industry where it's the principle source of crushed rock aggregate.

E & JW Glendinning produces concrete and asphalt products from its facility at Linhay Hill Quarry Ashburton. It excavates more than 500,000 tonnes of limestone a year and also produces 250,000 tonnes of high PSV grit stone chippings and asphalt a year from its 35-hectare Pigsdon Quarry near Bude in North Cornwall. The company operates two quarries, a contracting division, two asphalt plants, two concrete-product manufacturing facilities, three concrete plants and a transport company – operating more than 50 machines and employing over 230 staff across seven different sites.
Glendinning is a family-run business with the founders' children and grandchildren all actively involved. The company was established in 1958 and is the largest independent supplier of quarry and concrete products – both to the trade and direct customers – in Devon and Cornwall.
A chain reaction
In total, Glendinning owns a fleet of 18 Volvo Construction Equipment (Volvo CE) machines. The Linhay Hill Quarry has 10 Volvo machines, including one L350F-Series, one L180E-Series, two L180C-Series wheel loaders and two A35C-Series, two A35D-Series and two A40E-Series articulated haulers. The company's Pigsdon site uses five Volvo machines – one A35D-Series hauler, one L50E-Series wheel loader and three excavators – an EC460LC, EC460BLC and a new Volvo EC300D-Series. In addition to these machines, its road maintenance division operates three Volvo EC23 excavators.

The 52 tonne L350F-Series is being used to load blasted limestone at the quarry face, onto articulated haulers – which then taken to a semi-static primary crusher. Equipped with a 6.8m3 spade nosed bucket for easy and efficient loading, the machine has also been fitted with a set of Brindley tyre chains for heightened protection against the constant impact with abrasive surfaces and crushed rock, reducing tyre wear significantly.
"The tyre chains are a significant investment," says Richard Webb, operations manager. "But it's worth it when you consider both the machine's application coupled with the cost of replacing large earth moving tyres."
The L350F-Series wheel loader has replaced a Volvo L330C-Series that was acquired by the company in 1998 and although it's still in full working order it's now being used for less grueling duties, having already clocked up more than 21,000 hours. Such is its productivity that the new wheel loader also frees up an 80 tonne excavator that can now be used to feed the crusher.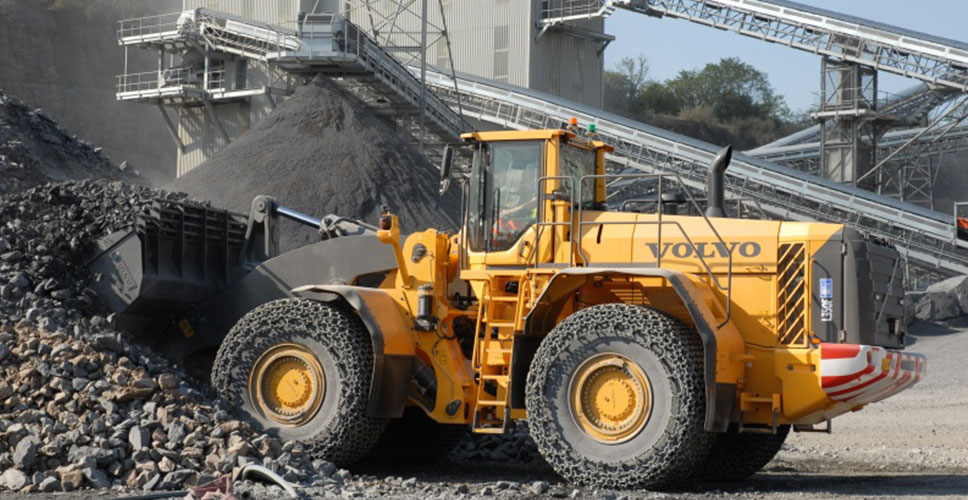 "The fact that the L330C-Series has soldiered on for much longer than expected is testament to the product," says Webb. "After our evaluation of the market and the package on offer from Volvo – as well as a long standing working relationship with its UK team – we consider the L350F the best replacement."
The Volvo L350F wheel loader offers fuel economy and high productivity because of a combination of its Tier 3/Stage III Volvo engine, stronger hydraulics, a Volvo transmission with lock-up and Volvo designed and manufactured axles. As a result, the L350F is easy and comfortable to operate, leading to fast cycle times and sustained high performance throughout the working day – with reduced operator fatigue an added bonus. The operator can enjoy the spacious air-conditioned Volvo Care Cab that is insulated from noise, dust and vibrations due to viscous cab mounts and the suspended seat.
"We are more than happy with our Volvo machines," adds Webb. "As our older machines age I'm sure we will take on younger recruits."
Picture 1: A Volvo wheel loader and articulated hauler work together.

Picture 2: The L350F is all chained up.

Picture 3: The Linhay Quarry in Devon.