The Thames Estuary in Essex, Southern England, is where the River Thames meets the waters of the North Sea. The estuary is one of the largest channels on the coast of Great Britain and is a major shipping route. Thousands of journeys are made each year by large oil tankers, container ships, bulk carriers and roll-on/roll-off ferries.

Ingrebourne Valley, a joint venture company combining P.F. Ahern (London) – a long established waste management business – and RJD, a quarry operating company that constructs agricultural reservoirs, takes environmentally safe construction waste and uses it to return brownfield sites to leafy green parkland for local communities

The company has turned several thousand acres of damaged land into country parks and other agricultural spaces.

Rolling down the river
Specialized earthmoving contractor and plant hire firm, CJ Pryor, provides Ingrebourne Valley with all of its construction equipment and has a long working relationship with the company. However, this time it has supplied something quite different. A unique Volvo Construction Equipment (Volvo CE) EC480 D-Series excavator, modified, designed and engineered by Kocurek of Ipswich – the creator of bespoke excavators – that was built for the company's land generation project.

The main duty of the machine is to unload barges that bring in soil and other materials from various sites along the river. They park up next to the worksite and the material is then loaded into articulated haulers and deposited and spread across the site.

"We have operated Volvo products for a long time so when we decided to purchase the right machine for this particular project, choosing the EC480D excavator including the service support from Volvo CE made perfect sense," says Mick Munn, C J Pryor (Plant) Ltd, machine director.

The Volvo EC480D excavator has an outreach of 13.5 meters, a pin height of 14 meters and a digging depth of 6.5 meters. To achieve these impressive dimensions, the machine has been fitted with an 8-meter boom (which has been straightened and lengthened from the original), a 6-meter swan neck grab arm supported by two under-slung cylinders and an additional counterweight.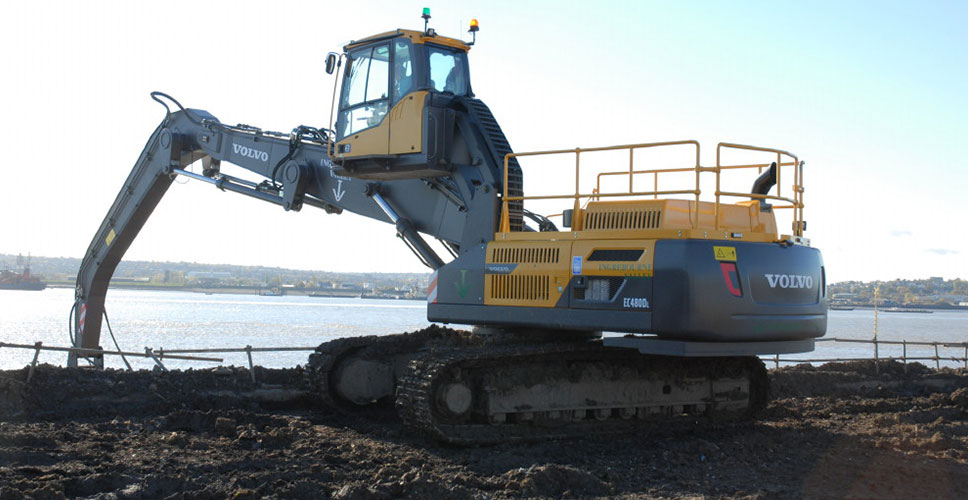 Further modifications include a hydraulic high rise cab with a lift height of two meters to improve operator visibility when unloading the barges, especially at low tide, and a Veractert GOS-35 1,670 liter rehandling grab has been fitted. The operating weight of the machine has been increased to just over 54 tonnes. At the heart of the machine, a Stage IIIB V-Act 13 liter engine is ideally matched to its automatic sensing mode hydraulic system – a truly unique machine, perfect for the job in hand.

This is not the only reclamation project in London which could see unused land put to good use. If Boris Johnson, the Mayor of London, is successful in building a new airport on reclaimed land next to the Thames Estuary, the bold move could solve London's capacity problems in comparison to Hong Kong's Chep Lap Kok airport, which was built on land reclaimed from the sea on the northern end of Lantau Island.

Picture 1: Reaching out over the River Thames in Essex

Picture 2: High and dry in the EC480D's cab

Picture 3: River scenery and blue skies: It's not a bad place to work