Volvo Construction Equipment is dedicated to protecting the environment, whether that may be in terms of reducing its carbon footprint, pollution, resources – or even protecting old extraordinary architecture rich in history.

Volvo CE's best demolition machinery was put to the test to save two famous landmark buildings flanking a structure that was being knocked down to make room for a new Metro Rail project. It's the largest public project in Tamilnadu, with an investment of 146 billion rupees ($3.20 billion). Phase one of the Chennai Metro Rail Limited (CMRL) project foresees about 44km of underground and overground space being used for the high speed state-of the art rail network. The main hub of this entire project will be at the famous Central Station, which is one of the busiest places in Chennai.

After careful study of the structures ACT proposed to use Volvo CE's Hydraulic Crusher for the entire demolition of Hotel Picnic that stood in the central station area of CMRL, which was an existing multi-storied structure with reinforced cement concrete – standing 30m in height and covering 12,000m2 of built up area. This structure was sandwiched between two famous landmark heritage structures, the Rippon Building and the Victoria Hall, both of which are more than 100 years old and made of masonry in lime mortar.

Hotel Picnic was very close to both of these heritage structures with hardly 10m clearance on either side of the heritage buildings. Organizations like Intach that protect heritage structures all over India, were concerned about the proposal because any vibrations from the demolition of the hotel would almost certainly be harmful to these structures and their futures.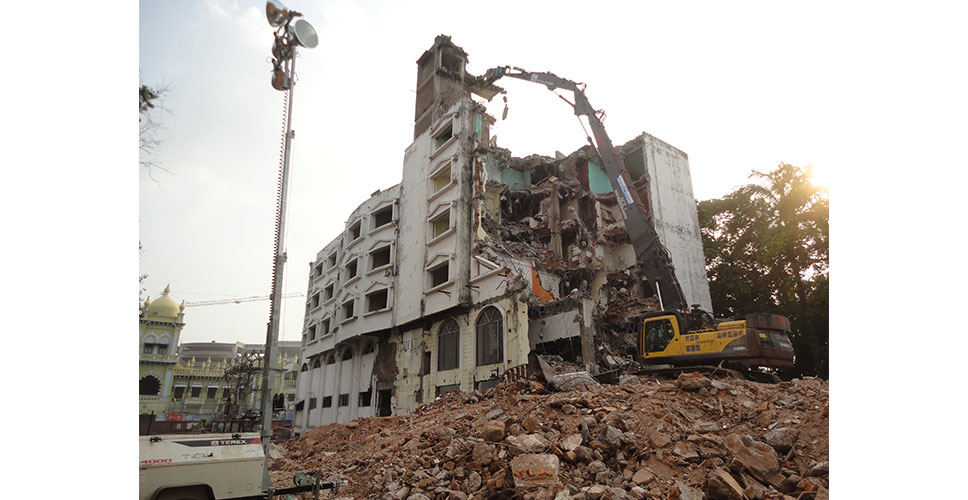 CMRL also approved this method of demolition because the machines were deemed best for the job at hand. Two Volvo machines, the EC240BLC excavator fitted with a Hydraulic Crusher, and the EC460BLC excavator, fitted with a 26m triple boom and a Hydraulic Crusher, started the demolition work on 30 October and completed the task two weeks later. It took just over 100 hours to finish the job. Hydraulic concrete crushers are specified world-wide by leading institutions and city authorities for urban and industrial demolition because of their low noise level, minimal vibration, and economical and faster execution.

"We needed to bring the structure down safely and keep vibrations to a minimum because the hotel was situated between two very important historic structures," says Mohan Ramanathan, managing director of Advanced Construction Technologies.

"For demolitions we always use Volvo CE machines, because they have the best hydraulic system and I trust them to do the job without upsetting the foundations around the objective."

In June 2011, ACT had already introduced the concept of using silent demolition by hiring Hydraulic Crushers to CMRL for the demolition of an old police headquarters for Mannady Station in Chennai. The method was new to Chennai, but CMRL was convinced that it wanted to use the excavator – based Hydraulic Crusher for the rest of the project.

This is the first time a high reach demolition machine of 26m has been used in Chennai. Dust is controlled by an in-built water spray system in the high reach machine. With the introduction of such safe demolition technologies, Volvo CE and ACT strongly believe that heritage structures near demolition sites can stay safe.

Text: Chloe Doyle

Picture 1: The eerie heritage structure stay safe

Picture 2: High reach demolition machine at work