Volvo Construction Equipment's Belgian dealer, VCM, has been supporting the sport of bike trials for the past five years by providing the excavators and attachments necessary to build obstacle courses for competitions. The sport requires riders to cross the course without putting a foot on the ground or leaning on any of the obstacles. It requires athleticism, precision and concentration: a rider might, for example, be required to jump from the ground onto a 1.5m block – without the aid of a running start. The rider who touches the fewest obstacles in the shortest time wins.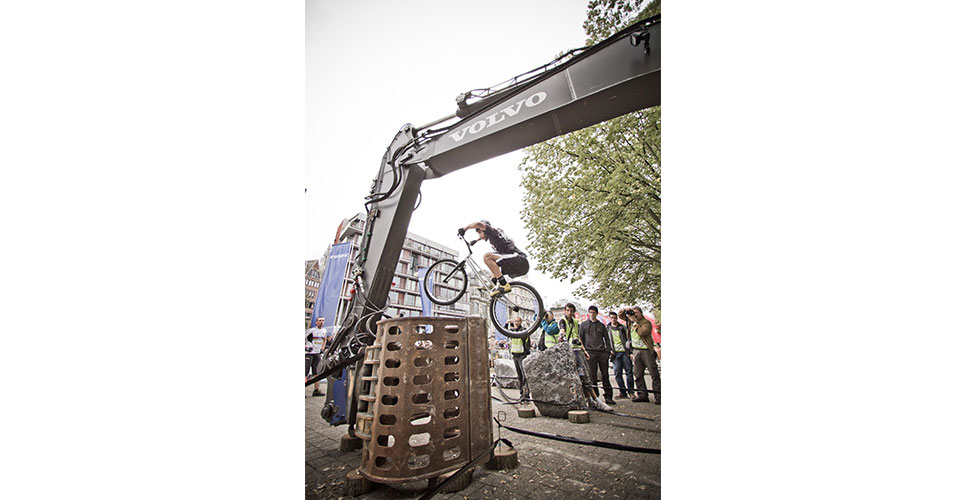 This July, a presenting sponsor was needed for the UCI Trials World Cup in Antwerp, Belgium. VCM, with its long history of working with bike trials, was clearly the perfect company to fill the role. Not only did the dealer use its machines to help set up the obstacle course, but a Volvo EC240C crawler excavator and attachments were then integrated into the course itself and used as blocks for the riders to jump on.

"The sport is a great fit for VCM and Volvo Construction Equipment," says Peter Mutton, VCM's marketing officer. "It's more environmentally friendly than motorbike trials, and it requires endurance, concentration, dedication and precision."

Kenny Belaey certainly personifies those characteristics – a competitive biker since the age of nine, he currently trains four hours a day. The Belgian six-time World Cup winner and nine-time world champion came third in this year's World Cup competition, after experiencing some problems with his front tire and brake.

"Bike trials is difficult, certainly. Training is a priority in any sport, but in a technical sport like trials, it's a daily, full-time job," Kenny says. "In order to compete, you need to master all aspects of the sport, like explosive power, endurance and technical bike skills. You train for each of these aspects separately, and that's how you improve."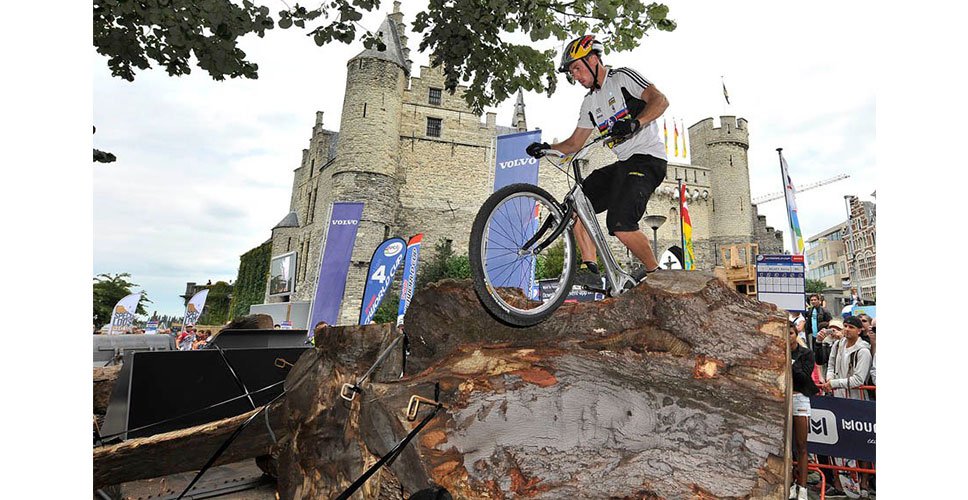 Kenny says VCM's partnership has been beneficial to bike trials.

"By sponsoring the UCI Trials World Cup, VCM has helped grow the event," Kenny says. "Having the excavator on the course was pretty unique, as well. We're really thankful to VCM for partnering with us, both now and over the past five years."

Text: Christin Runkle

Picture 1: Kenny Belaey mounts a sorting grab on his bike during the UCI Trials World Cup in Antwerp, Belgium, which was sponsored by Volvo Construction Equipment.

Picture 2: Kenny Belaey rides his bike over an obstacle.

Picture 3: A rider flies through the air next to a Volvo EC240CL excavator.