Dressed in dark blue astronaut suits, two women and three men walk in single line towards their vessel. But what they are about to board isn't a space craft, instead its several of Volvo Construction Equipment's newest machines.
These operators are practicing Volvo's eagerly awaited demo show in time for Russia's annual ConExpo/CTT, held at Crocus International Exhibition Center in Moscow. This year, the demo show has a space theme in celebration of 50 years since Russian pilot and cosmonaut Yuri Gagarin became the first human to journey into outer space. Gagarin completed an orbit of the Earth on April 12, 1961 that ushered in the era of human spaceflight.
Volvo's space-themed demo show promises to be a spectacle as Volvo's newest array of machines perform stunts in time to space-age music. Another refreshing element of the show is the presence of women operators – specially trained Volvo employees – who will operate the biggest machines in the set, while the men will operate the smallest.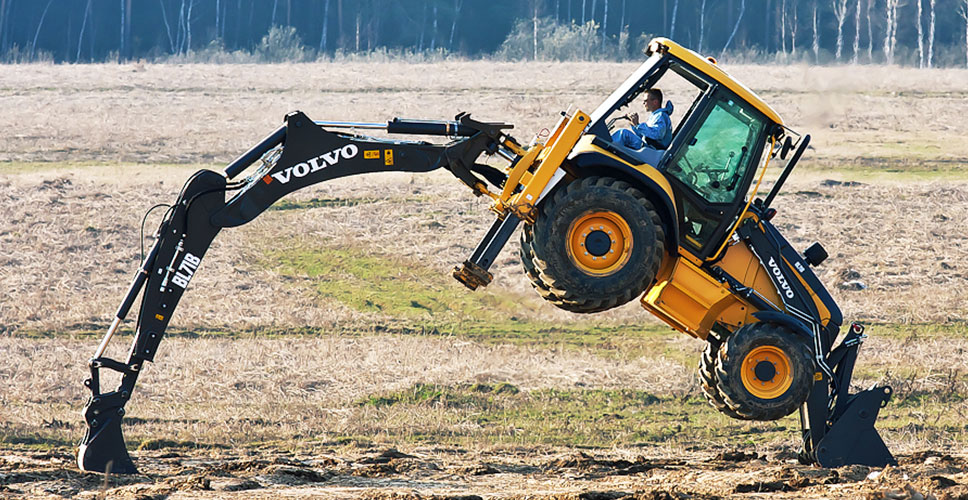 "The demo show is a great opportunity to demonstrate that we have the best machines on the market," says Andrey Komov, Sales & Marketing Director for Volvo Construction Equipment Russia and CIS. "We like to make these shows fun and different to other companies so we're always thinking of new ideas to catch people's attention. Of course, there is a big focus on the BRIC markets and as one of these countries we need to get our message through to customers that our market is growing and we have a lot of new machinery to offer this year – it will be one of the biggest portfolio updates in Volvo's history. So we hope to grab attention with this lively demo show."
Olga Kuksgauzen is product manager for Volvo Construction Equipment in Russia and she is one of the women involved in the demo show. "I first started operating machines in 2008, when I was asked if I would like to take part in Volvo's demo shows. I was really excited at the opportunity and was given an intensive course on how to operate the machines safely. This year I get the chance to operate the bigger machines which is very exciting. I think it's important to show that women can operate machines too – and even perform stunts on them – and I'm glad that Volvo supports this. This year's space theme is the best yet. It's really striking and very appropriate to Russia's roots."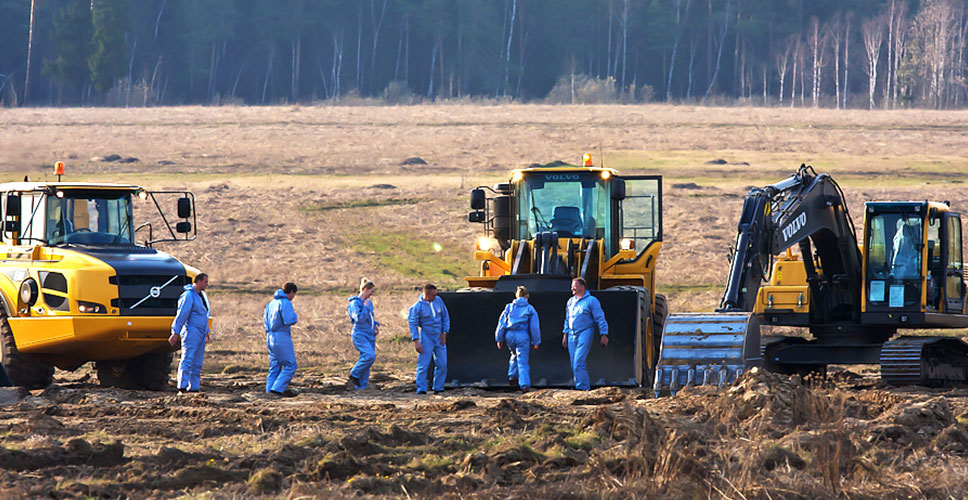 Volvo's newest range of machines will be present at the Russian ConExpo/CTT between May 31 - June 4 and include the DD85 asphalt roller, 7820B asphalt paver, A40F articulated hauler, L180G wheel loader, L45F compact wheel loader, EC360B crawler excavator, BL71B backhoe loader and MC115C, MC135C skid steer loaders.
Volvo will have a joint presence at the show with other Volvo Group members including Volvo Trucks, showing its new FMX tipper, concrete mixer and two tractors that are compatible with Volvo construction machinery.
Picture 1: A Volvo A40F articulated hauler and BL71B backhoe loader show off their skills in Volvo's Russian demo show.

Picture 2: A Volvo BL71B backhoe loader performs an impressive stunt that will be recreated at ConExpo/CTT Russia.

Picture 3: Volvo's team of men and women operators are dressed in astronaut suits as part of the demo show space theme.