The sound of machines at work bounces off a thick blanket of snow, tinged with a magical pink and blue in the pale evening light, as the thermometer drops to minus 30°C (-22°F).

Artur Torneus has been using his Volvo wheel loaders and compact excavator flat out in these below freezing conditions since August. They carry and load snow for a special project. He is helping to rebuild the Ice Hotel in Jukkasjärvi, Sweden.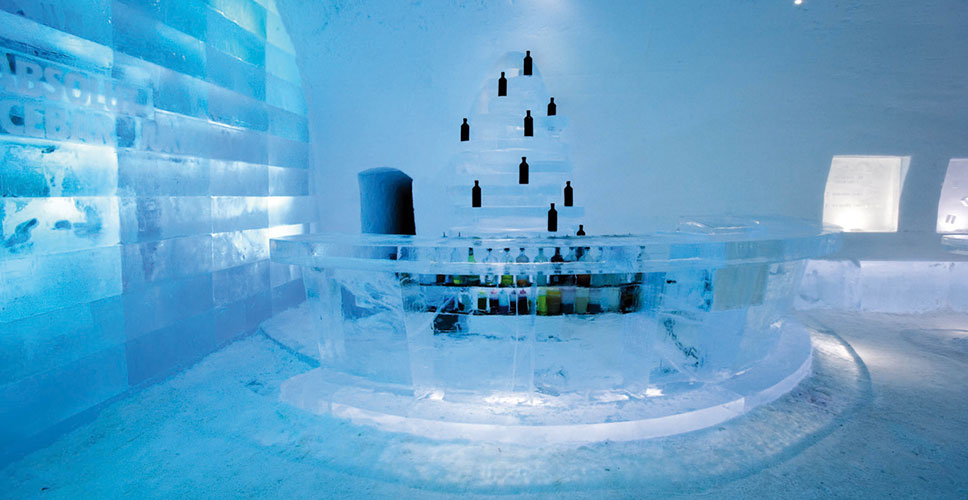 This famous hotel, made entirely of snow and ice, is redesigned and rebuilt every year and 54-year-old Torneus, the owner of Artur Torneus Saw & Tractor AB, has been helping with the rebuilding work for the last 15 years.

"I now work full time here, since the hotel has grown so much," he says. "I'm used to working with snow and ice because I used to make winter roads in the forest."

Go back 20 years and few people had heard of the Swedish village of Jukkasjärvi, more than 1,200km (746 miles) north of Stockholm and nestling 200 km (124 miles) beyond the Arctic Circle. But today, in its 21st year, the Ice Hotel will cater for some 24,000 visitors, while its chapel will host 150 weddings. The hotel covers 5,500 square meters (59,200 ft²) and will contain 62 rooms, a bar, a chapel, reception and common areas.
No alternative to Volvo
During a working day, Torneus can transport almost 2,000 cubic meters (70,629ft³) of snow for the hotel using his Volvo L60E, L35B, L30B wheel loaders."There is no alternative to Volvo machinery," he says. "They have a level of reliability that you won't find in any other machine. The warmth and comfort of the cabins are great. I have the machine stored in a heated garage during winter, which keeps the hydraulics in good condition."

The Volvo machines work from August until early June, carrying snow and loading it into moulds to form the hotel's roof and walls.

The snow is specially produced on site using snow cannons, consisting of precisely calculated amounts of air and water from the river. This high-density artificial snow offers better insulation and melts slower. It is also heavier.

"The snow can be harder to unload than gravel because it is so compact and hard," says Torneus. "Natural snow weighs 130 kg (287lb) per cubic meter but our snow weighs 470 kg (1036lb). For machines, it can be slippery and difficult, you have to run smoothly."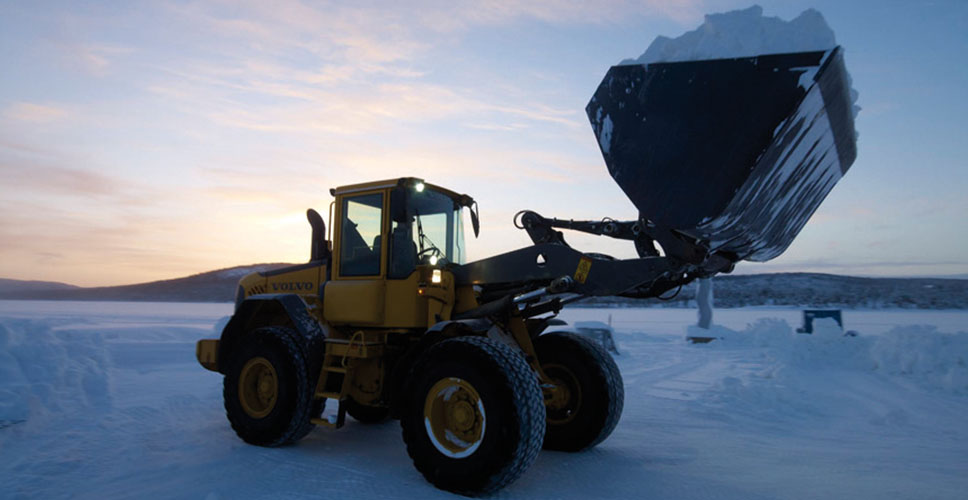 Once the snow solidifies in the cold temperature, the moulds are removed and the building is divided up into rooms and exhibition spaces. Electrical cables line the floors and walls to give ice artists the opportunity to light up their unique works.

The Ice Hotel's season runs from December to April. In April the hotel shuts down and slowly melts to the ground. Then work begins to resurrect it again. Torneus, however, refuses to be sentimental. Indeed, he celebrates the Ice Hotel's natural cycle. "It feels just fine," he says. "We borrow materials from the river in the fall and, as nature takes its course, it returns there in the spring."

Picture 1: Artur Torneus stands in front of his Volvo L60E wheel loader which he uses to carry and load snow.

Picture 2: The Ice Hotel bar, designed by Åke Larsson, Mats Nilsson and Jens Thomas Ivarsson.

Picture 3: A Volvo L60E wheel loader with fork attachment moves blocks of ice to be used in the Ice Hotel.

Picture 4: Volvo wheel loaders work flat out from August until June to carry up to 2,000 cubic meters of snow in one day.

NEW: Visit Volvo's YouTube channel to see video footage of Volvo machines building Sweden's world- famous Ice Hotel: