When a group of people come together for a shared cause, it's amazing how much can be accomplished in just a short amount of time. This September, 120 employees from Volvo Construction Equipment's (Volvo CE) global marketing department – which spans 20 countries – met in Eskilstuna for their annual conference. And they proved that when people join forces to help others, much can be accomplished in just a matter of hours.

Because a lot of people were new to the Global Marketing Team this year, it was decided that a team-building exercise would help develop relationships between new colleagues while strengthening existing ties. What better way to do that, they decided, than to volunteer together to help the community of Eskilstuna.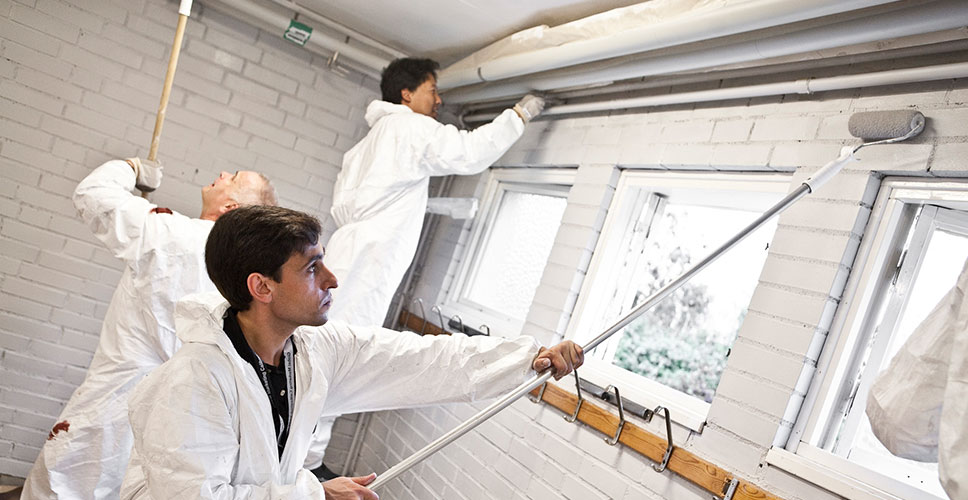 When it came to choosing a project, the Volvo CE team asked for suggestions from the community. Though many ideas rolled in, one stood out in particular: renovating an aging football arena used by local children and teenagers. The arena, Årby IP, was built in the 1960s and has been very heavily used since that time. But despite its popularity, the stadium had gone into disrepair – that is, until the Volvo CE team showed up.

The marketing employees divided themselves into smaller teams and in one four-hour block of time, they accomplished a lot: they repainted the interiors, outside walls and roof of four locker rooms; renovated and installed logos in the corridors; pruned bushes and planted flowers and three trees; built a football wall for practice; renovated the arena's entrance; put up a new sign and painted the signposts; and filled the yard with new gravel.

"Everyone is very happy with the way Årby IP looks now," says Peter Fröjdfeldt, who is in charge of running Eskilstuna's public arenas. "It's as if the arena has been given a new lease on life."

Mona Kanaan, who is the head of culture and recreation for the city of Eskilstuna, was equally thrilled with the outcome. "It was such a meaningful gesture on the part of Volvo," she says. "Giving the arena its much-needed repairs could potentially have been a long and drawn-out process, but Volvo showed up and jumped right in. It would be great if other companies followed this example."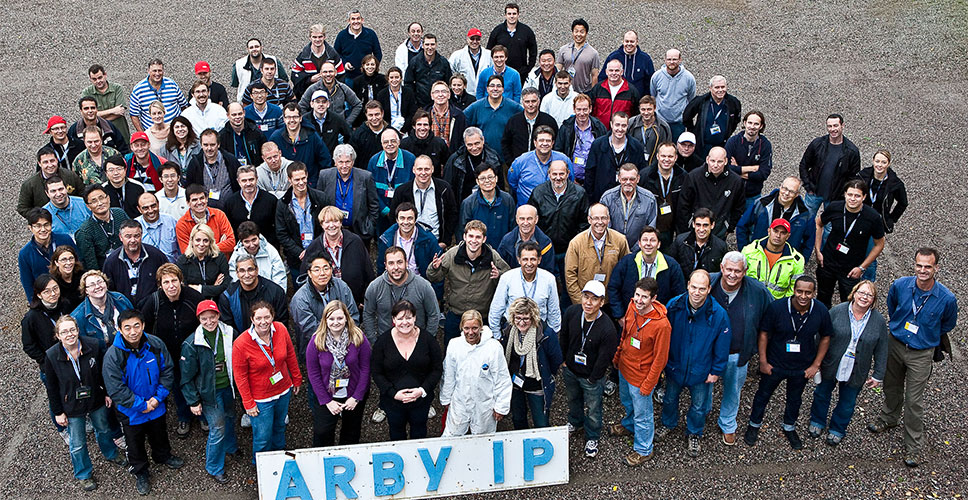 Because Volvo CE is one of Eskilstuna's largest employers and because of its long history in the city, the global marketing team felt even more closely connected to the task. And, as with any good deed, it's often the giver who benefits – even more than the recipient.

"Everyone on the team had a really heart-warming experience, and a lot of them said this was something they would remember their whole lives," says Mats Bredborg, Volvo CE's global director of brand management. "I don't think I have ever seen a group of people work so hard at something before."

Arvid Rinaldo, marketing communications manager at Volvo CE, agrees, adding: "The activity really boosted team spirit and gave us a lot of energy as a team. I think this is what Volvo is all about: caring about society, looking at the bigger picture and helping our local communities."

Text: Christin Runkle

Picture 1: During their volunteer project, some members of Volvo Construction Equipment's global marketing team construct a set of shelves for Årby IP, a football arena used by children in Eskilstuna, Sweden.

Picture 2: Volvo CE volunteers paint a locker room at Årby IP arena in Eskilstuna.

Picture 3: The Volvo CE global marketing team poses for a group photo with the old Årby IP sign they replaced with a brand new one.