A giant ladybird and a praying mantis were just some of the designs in Volvo Construction Equipment's excavator parade at this year's Changwon festival in South Korea. The brightly colored excavators from Volvo's plant in Changwon joined a large parade watched by thousands of visitors in the city.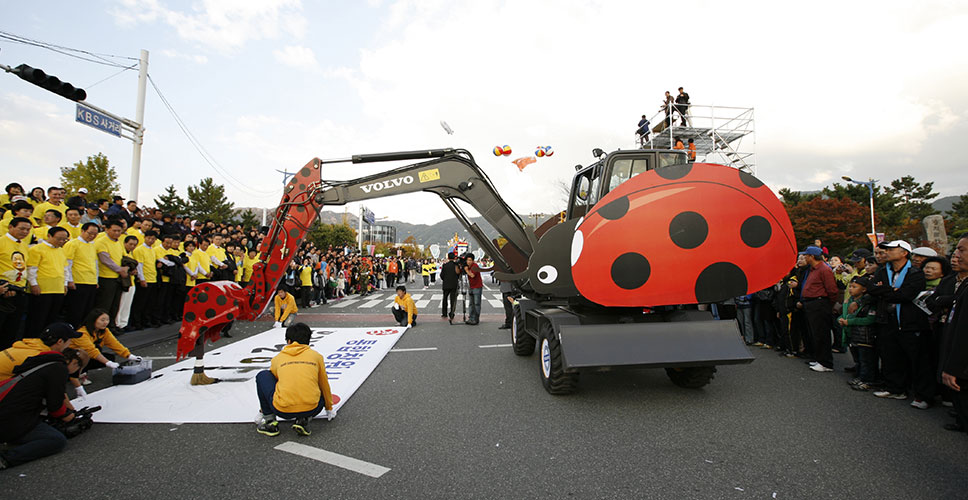 Volvo was keen to participate in the annual event, which took place in October. During the opening ceremony a Volvo excavator held a large brush and painted the letters 'We Are One' onto a banner as a celebration of the newly integrated Changwon City, which merged with Masan and Jinhae in July this year.

After the opening ceremony, three 13 tonne Volvo EW145B Prime excavators decorated as a ladybird, a beetle and a praying mantis moved through the parade. The bugs represented a 'nature' theme, chosen to highlight Volvo's care for the environment. Some of the Volvo excavators attracted attention by cooking a special Korean dish 'Bindae-dduk' (a pancake made from ground mung beans, green onions and peppers, cooked in a frying pan) and by serving a traditional beverage 'Makgulli (an drink made from a mixture of wheat and rice) using their booms.

Mr. Wi-soo Suk, President of Volvo Group Korea said: "Volvo is one of the prominent global enterprises in Changwon and we want to get involved in local activities as much as possible. The 2010 Changwon festival is a great opportunity to display our equipment to the public and we were very pleased to see so many people enjoying the parade."

Picture 1: A Volvo EW145B Prime excavator decorated as a praying mantis joins the parade.

Picture 2: The ladybird-designed Volvo excavator paints a celebratory banner at the Changwon 2010 festival.