In Las Vegas, the odds of winning aren't good – 'the house always wins', as they say. But during CONEXPO-CON/AGG 2011, which took place just steps away from the city's famous Strip, US-based contractors Fairchild Brothers Inc. came away with a different kind of jackpot: a complimentary two-year lease on a Volvo MCT135C tracked skid steer loader, courtesy of Volvo.

Visiting the Volvo Construction Equipment booth were Fairchild Brothers president Guy Fairchild and Chris Sauers, the business's superintendent. Chris entered the sweepstakes – and almost immediately forgot about it. But when the small, family-owned company from appropriately named Winfield, Pennsylvania, found out they had actually won, they were elated.

"I went to Vegas, lost 10 bucks in the casino, but ended up winning a skid steer!" Chris laughs.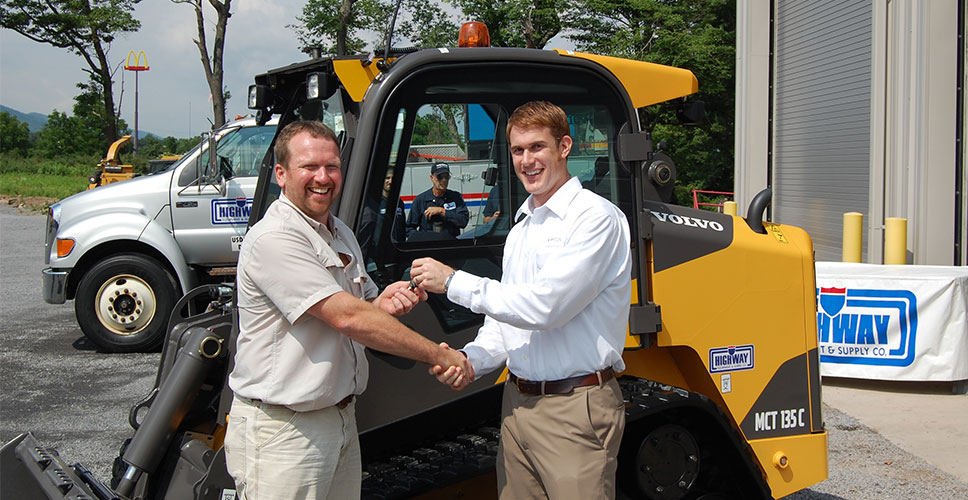 Fairchild Brothers Inc. has more than 40 years of contracting experience and provides a full range of services, including grading and road construction, site development, utility construction, paving, and snow removal. It already uses Volvo Construction Equipment, with an ECR58 compact excavator and an EC290 excavator in its fleet.

In late June, Fairchild Brothers picked up its new skid steer at the local Volvo Construction Equipment dealer, Highway Equipment and Supply Company, in Lock Haven, Pennsylvania. The prize also includes complete warranty and servicing coverage and a variety of attachments for the skid steer, including a landscape bucket, multi-purpose bucket, and a set of pallet forks.

Fittingly, Chris was the first employee to use the skid steer – to do some clean-up work on a dam removal project. Then, Guy used the machine to help out the local fire department, and at the time of writing, it is at work on a small job installing an underground drain in a yard.

"It's a very versatile machine, and we'll use it on all kinds of projects," Chris says. "It'll be great for clean-up and landscaping after doing drain work. Its solid frame will be an asset for grading, too."

Not only does Fairchild Brothers get the free use of a Volvo machine for the next two years but it's one of the first companies to use the new skid steer, which was introduced at CONEXPO in March this year. It has a novel single loader arm design that delivers high performance and durability, while improving operator safety with side-entry cab access and class-leading visibility. The vertical-lift, 68.6 kW MCT135C has a rated operating capacity of 1,361 kg, allowing for application versatility.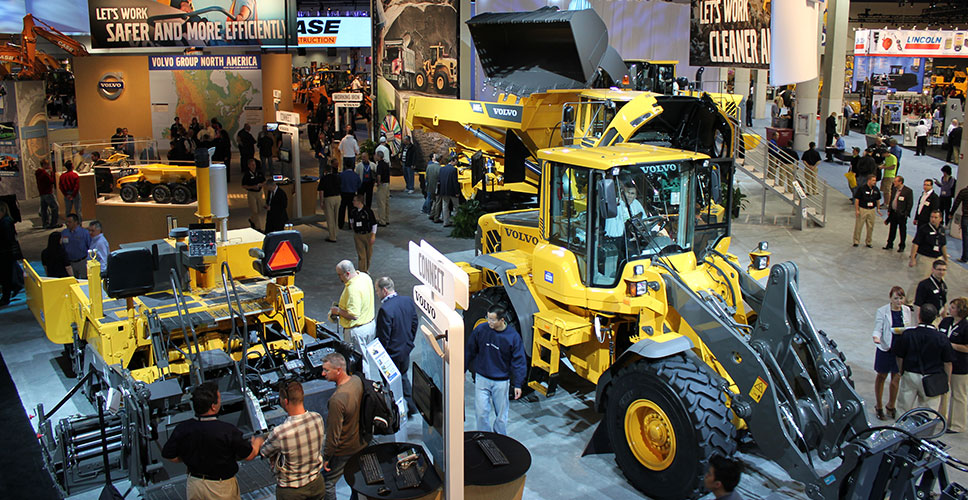 "Winning the MCT135C is super: it fits right in with our company's size and operations," says co-owner Russ Fairchild. "We'll definitely put the skid steer to good use. It's the perfect prize for us."

Text: Christin Runkle

Picture 1: Matt Shoemaker, Chris Sauers, Russ Fairchild and Guy Fairchild of Fairchild Brothers proudly stand in front of their new Volvo MCT135C tracked skid steer loader at the Volvo Construction Equipment dealership, Highway Equipment & Supply Company, in Lock Haven, Pennsylvania.

Picture 2: The sweepstakes was a big draw at the already-popular Volvo Construction Equipment booth at CONEXPO-CON/AGG 2011 in Las Vegas.

Picture 3: Chris Sauers (left) of Fairchild Brothers is congratulated by Chris Price of Volvo Construction Equipment in front of the new Volvo skid steer.