When you walk through Volvo Construction Equipment's factory in Hameln, Germany, it's not unusual to see large groups of teenagers. That might be a strange sight at some factories, but in Hameln, these young people are part of an apprenticeship for budding mechanics and engineers that's been in place since 1954. A similar program also exists in Volvo CE's Konz, Germany, factory.

The Volvo apprentices learn practical skills like milling, welding, lathing, and hydraulics while also spending time in the classroom – two days a week in their first year, and one day a week thereafter. The program is so comprehensive that after three and a half years, graduates will have the skills and knowledge necessary to build any of the machines the Hameln factory manufactures – compactors, pavers and milling machines – and they will be well-versed in each part and detail of these machines.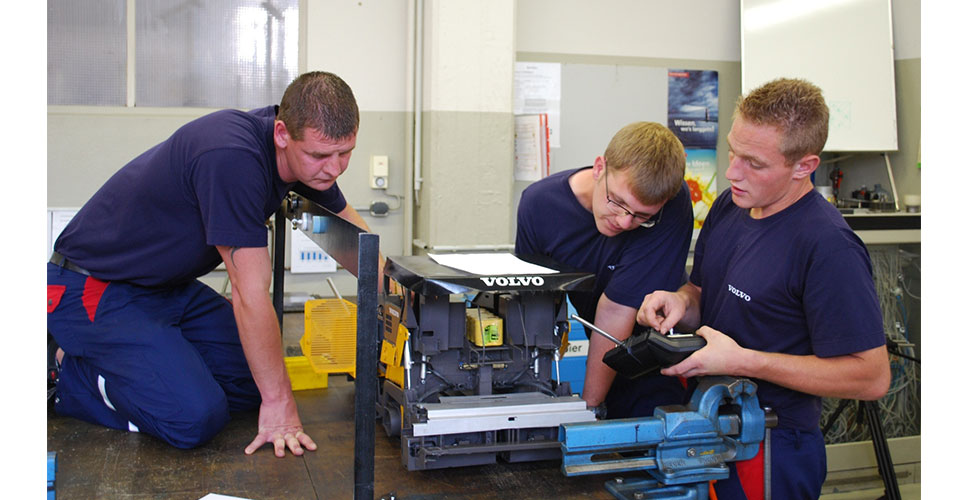 But before ever going near the machines, the apprentices become acquainted with them by building small replicas first. It would be easy to mistake the models for toys, as they're small enough to fit on a table top, but in reality, the models are a critical part of the apprentices' early days of training. For the first six months, the young pupils use the models alone, instead of the full-sized machines they represent – and they teach the apprentices how to build equipment.

The program offers two tracks: one is a straight apprenticeship program, which culminates in a qualification as an industrial mechanic, while the second option combines university courses at Fachhochschule Hannover (the University of Applied Science) with an apprenticeship. Students on the second track can earn a diploma or bachelor's degree while gaining unique and valuable hands-on experience. Right now, 22 apprentices – many of them as young as 16 – and four students are enrolled in the program.

Daniel Bickel, aged 26, and Dennis Ebbighausen, aged 28, are recent attendees of the university/apprenticeship program. Daniel is finishing up a master's degree and will begin a job at Volvo Powertrain next month, while Dennis already works in research and development at the plant in Hameln. Both have high praise for the program.

"If I had taken a typical university engineering course, it would have been mainly theoretical; with this program, I've had the practical experience too," says Dennis, who finished the program at the end of 2008. "Because you work with the engineers every day, you get to know everyone and you learn how everything works at Volvo CE – it makes the transition into work so much easier."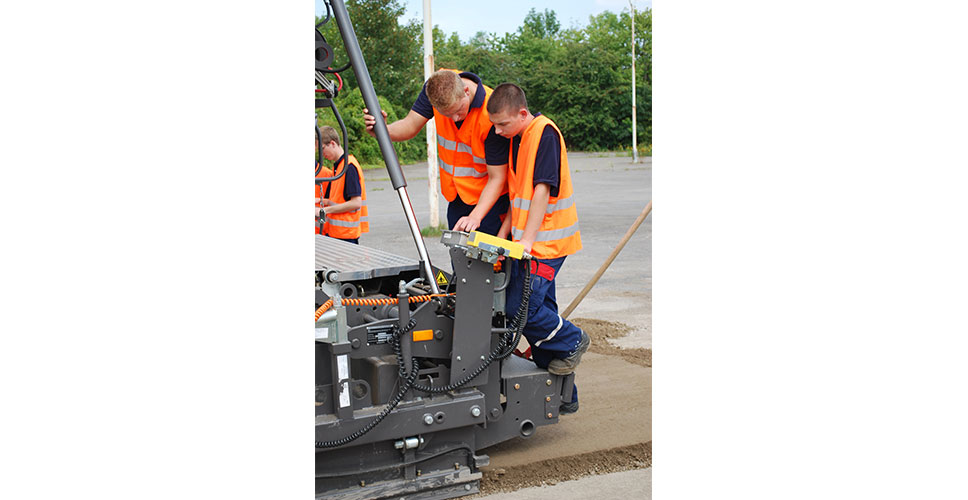 "It was great for learning practical things – at university I never would have used a drill, for instance," Daniel agrees. "It's also a great way to get your foot in the door of the company." But more than that, he continues, there's a sense of pride that can be derived from being part of the program: "I love the feeling that I can be really proud of what I can do," he says.

Teaching apprentices and students like Daniel and Dennis the Volvo Way and transitioning them into work at Hameln after graduation is the whole aim of the program.

"Our goal is to keep them here at Volvo CE once they graduate – and apart from a few, nearly all of them do decide to stay with us," says Hans-Wilhelm Zeddies, who has run the program since 1989.

That few apprentices choose to work anywhere other than Volvo after leaving the program is a testament to the strong brand identification the program instills in its pupils. Besides providing jobs for local young people, it's clear that the apprenticeship program is a good thing for the Hameln factory, as well. Its general manager, Dirk Heusing, is proof of that: he himself is a product of the apprenticeship and university program, graduating in 1994 and working his way up from a first job in Hameln as welding shop manager before becoming general manager last year.

"It's a very good program, not just for mechanics but also for engineers," Dirk says. "It's important for us to create and train up our successors who can take over the factory and our jobs in the future."

Text: Christin Runkle

Picture 1: Hans-Wilhelm Zeddies demonstrates a paver model to some apprentices. He has overseen the Volvo Construction Equipment apprenticeship program at the Volvo factory in Hameln, Germany, for more than 20 years.

Picture 2: Two apprentices look at the electronic paver management panel at the screed of a Volvo ABG7820B tracked paver.

Picture 3: Two apprentices and an instructor operate a paver model.