The EWR130E is an exceptionally versatile machine, helped by the easy attachments setup. The pressure and flow for up to 32 attachments can be preprogrammed without the need for a service technician. Connecting to hydraulic attachments can also be made from the cab, thanks to the Steelwrist Auto Connect Coupler. Steelwrist tiltrotators offer much improved tool flexibility at a wide range of angles, while the factory-fitted preparation system enables the Steelwrist tiltrotator to be controlled using the original joysticks, and operator profiles set up on the main display.

Like all wheeled excavators, the EWR130E can drive independently from one jobsite area to another. With travel speeds up to 35km/hr (22 mph) it is no slowcoach, and its Boom Suspension System engages at speeds above 5km/hr (3 mph) to absorb shocks and reduce bouncing over rough or bumpy terrain. While the optional axle mounted mudguards help keep the machine clean, the Comfort Drive Control function allows the excavator to be steered while on jobsites using just the joystick, at speeds up to 20km/hr (12mph.). And thanks to a TuV approved tow hitch the EWR130E can pull a trailer weighing 3 tonnes (6,600 lbs) – or 8 tonnes (17,600 lbs) when fitted with additional overrun brakes.

When driving is not practical, the EWR130E's low machine height, combined with optimized tie-down points on the lower frame, makes machine transportation fast and easy.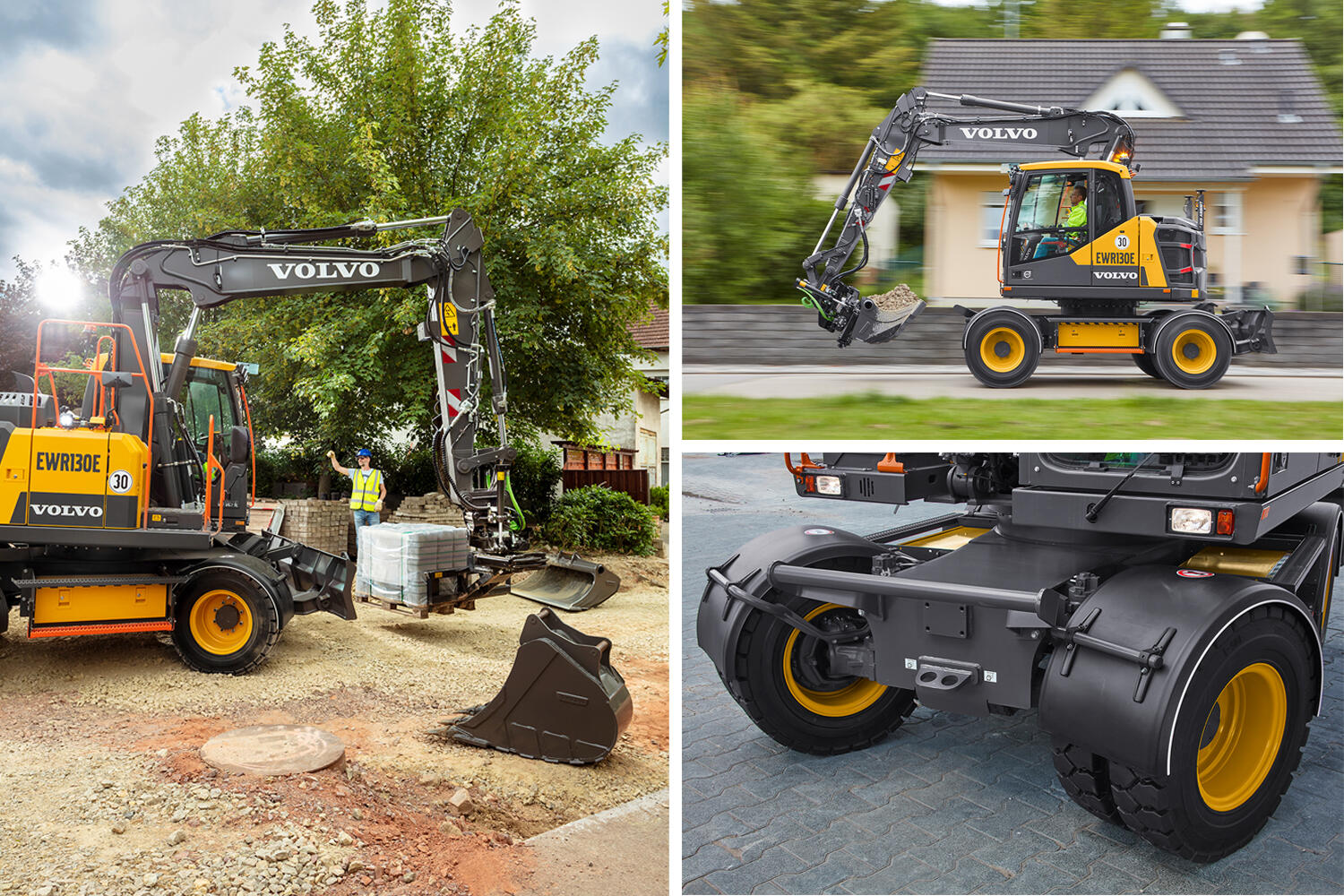 When you get to the work area, the machine is ready for action right away, with the automatic digging brake engaging whenever the machine's speed is zero. Help is at hand digitally too, with the optional Dig Assist machine control system offering 2D, In-Field Design, 3D excavation software and new On-Board Weighing apps, all displayed on the 10 inch Volvo Co-Pilot tablet, and making digging more accurate and faster.

A room with a (great) view
Just because the machine is compact doesn't mean the cab is. The EWR130E boasts a work environment for the operator that is just as spacious as on full-sized excavators. Controls are laid out ergonomically, comfort levels and most crucially – visibility – is outstanding. This is due to the low superstructure and design of the counterweight, hood and doors, which enhance visibility to the rear of the machine. Visibility to the right of the machine is best-in-class, due to no parts blocking the view out of the right-side window, a design concept unique to Volvo. And if you want complete 360 degree visibility, then opt for Volvo Smart View – three cameras attached to the frame that combine to create a bird's eye view of the machine, visible on the in-cab color monitor.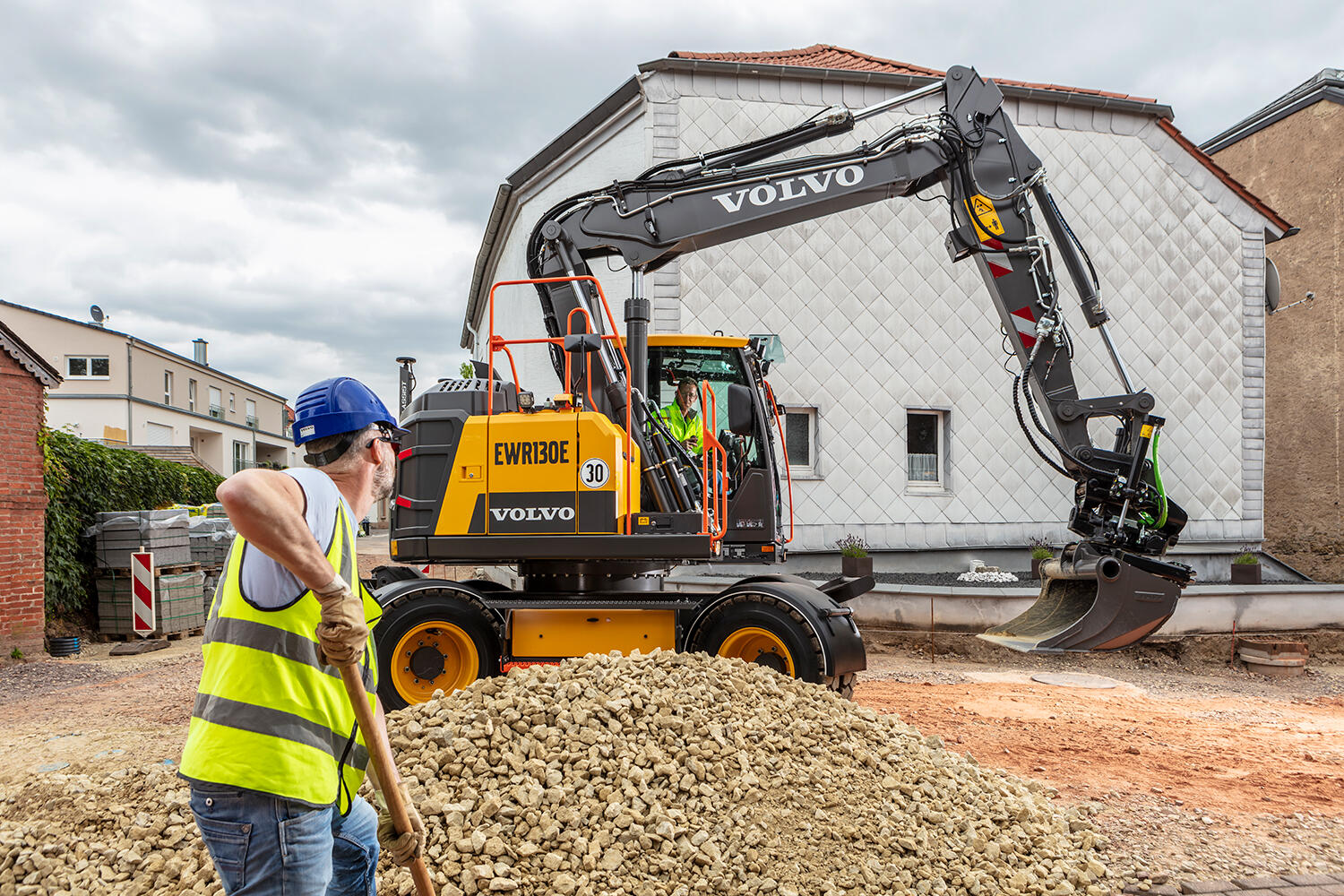 Joysticks can handle nearly all functions, from steering to window wiper operation. Programmable buttons allow operators to switch functions at the flick of a switch. As an option, the advanced L8 joystick is fully adjustable to any angle, thanks to a special ball joint, to offer the best ergonomic fit.

Other conveniences include a drawer-type toolbox for carrying tools, chains etc. It can carry up to 120 kg (265 lb) and features box dividers, which can be adjusted into five different positions, to help the operator stay organized. The excavator also features high visibility steps and handrails as well as a range of optional LED light packages, including the welcome light – guiding operators when entering and exiting the machine.
Taking care of the machine is taken care of
Servicing is made easy thanks to grouped greasing points and easy-to-reach filters, with all daily service checkpoints accessible from ground level. That's not all, the pivoting air conditioning condenser is fixed with a flexible latch, improving access to the radiators, for easy cleaning and increased component life.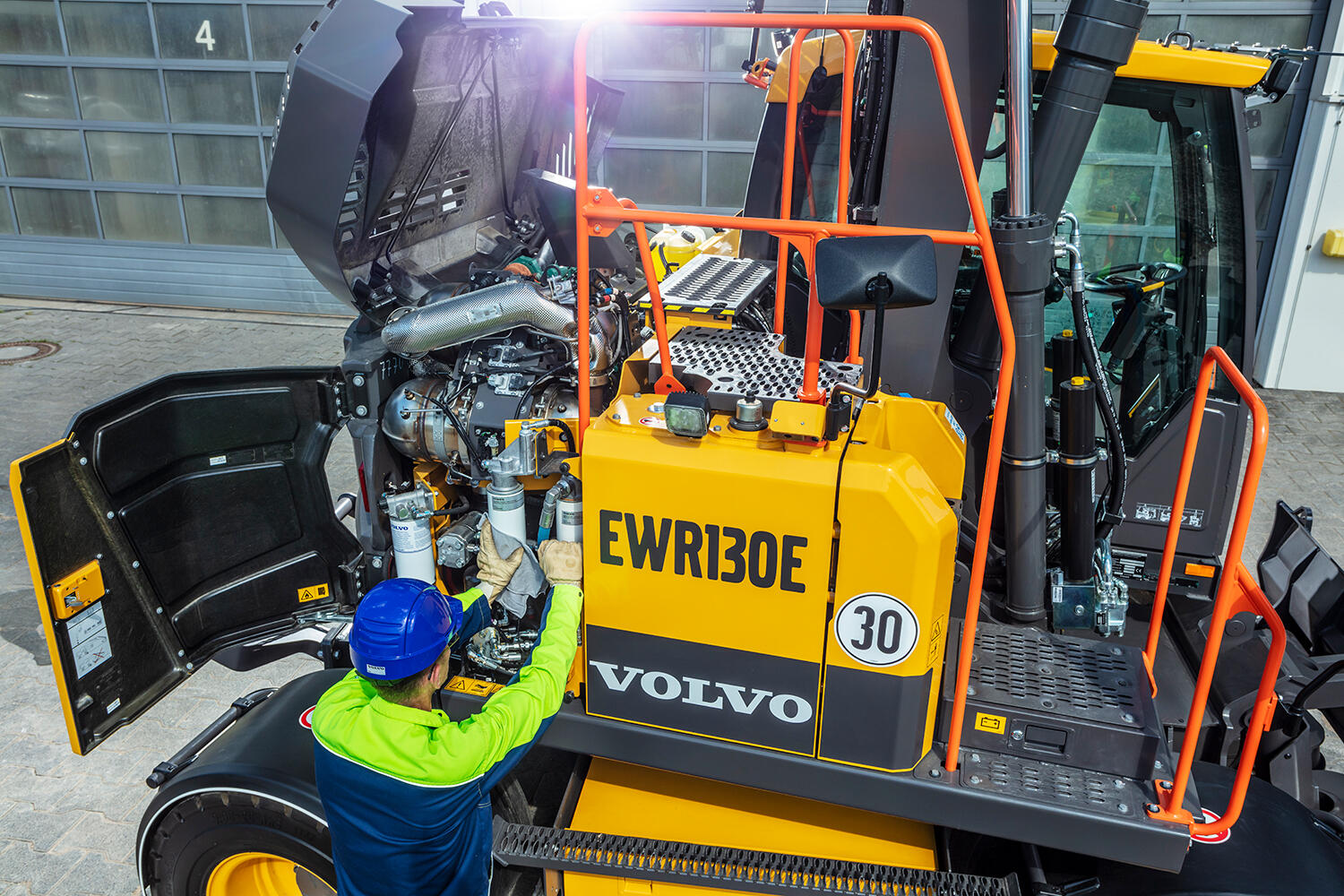 The EWR130E comes fitted as standard with the CareTrack telematics system. Accessed remotely, CareTrack provides machine information such as geolocation, fuel consumption and service reminders that allow improved planning and operation. Monitor the machine yourself, or allow Volvo Uptime Centers to provide 24/7 oversight, supplying weekly reports and providing notifications if action is required, with Volvo Active Care.

With so much ingenuity crammed into a small space, the all-new EWR130E from Volvo is the new benchmark for others to beat.
Key specifications EWR130E:
Engine EPA Tier 4 final! EU stage V
Volvo D4J
Operating weight
4,85 m fixed two piece boom with 2,1 m arm, Camso single tires 500/45-20 and standard parallel blade rear
kg
12 900
lb
28,44
Operating weight
4,85 m fixed two piece boom with 2,4 m arm , 9 inch Mitas twin tires front divide blade and rear outriggers and 4 wheel steering

kg
14 400

lb
31,75
Gross power
kW
90

HP(imp)

120

. at engine speed
r/min
2000
Max. reach ( 2,1 m —2,4 m arm )
m
8,44 - 8,67
ft
27.7' - 28.5'
Max speed
km/h
20/30/35
mi/h
12.4/18.6/21.

Ends.
November 2020