The Volvo Co-Pilot touchscreen will now display tire pressure and temperature in real-time. Operating in the correct tire-pressure parameter is essential for superior safety, fuel-efficiency and uptime. Each tire is monitored independently and pressure limits (low/high) are set per axle. If any of the individual tires gets outside the set parameters the operator will be alerted – alarm limits are displayed as nominal values and percentages. A blue message lets the operator know there are inconsistences in pressure or temperature and that the situation should be monitored. An amber message indicates that these inconsistences have worsened and the operator must take action.
All this data can be made available on CareTrack, so site managers can review and analyze historical tire trends that can help inform tire parameters in similar site conditions.
Map App
Maps do so much more than helping you get to your destination. The Map app uses the loader's built-in GPS for positioning and telecom connection on Volvo Co-Pilot to communicate between machines. The new Map feature allows operators to monitor the on-site traffic in real-time and proactively adjust their driving according to traffic conditions, especially in areas where multiple machines are operating close to each other.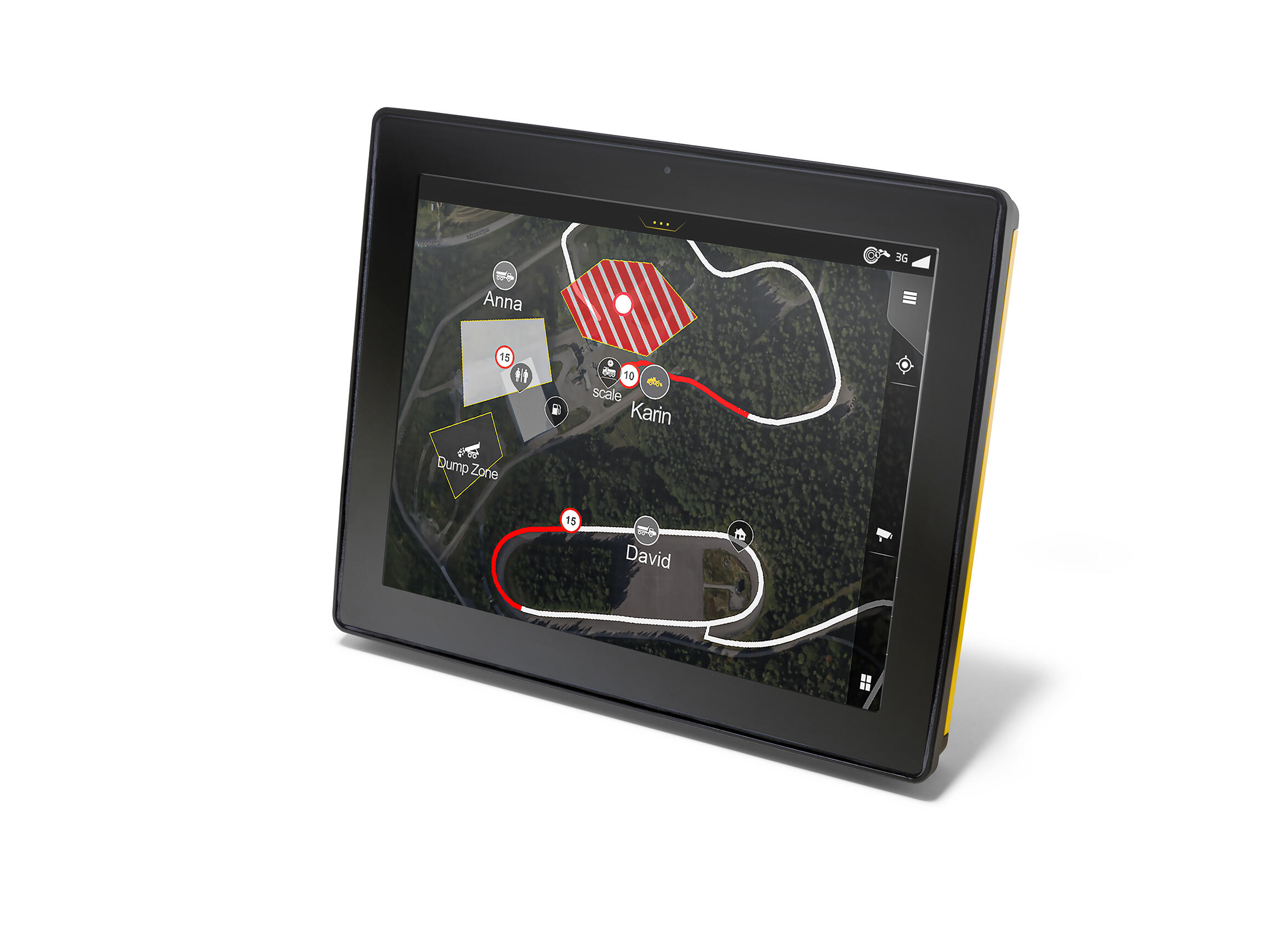 Knowing the position of other machines is also helpful from a safety perspective – especially when working on jobsites with restricted visibility. Roads, points of interest, restricted areas and single lane sections will be displayed to help operators navigate around the site with ease. Speed limit notifications are a further reminder to help operators avoid potentially dangerous situations. Efficiency is also improved by this Map feature, as operators can better anticipate driving decisions by monitoring traffic and work cycle flow.
The last three apps can be grouped together as Toolbox Applications. Just as you would expect on your smartphone or tablet, Volvo Co-Pilot comes with pre-installed apps designed to make the operator's life easier.
Calculator App
Complete basic calculation with addition, subtraction, multiplication and division functions. The calculator can also be used as a unit converter, quickly and easily converting six-unit types – length, mass, angle, time, temperature and speed.
Notes App
There's no need for a pad and pen with a digital notepad, which can be used to write and save notes while in the cab.
Weather App
Being prepared for changes in the weather helps you plan ahead. Illustrated by an easy-to-understand timeline, The Weather app informs you of current and upcoming climatic conditions. With the most up-to-date information at your fingertips, you can adapt more efficiently and keep operations on track – rain or shine.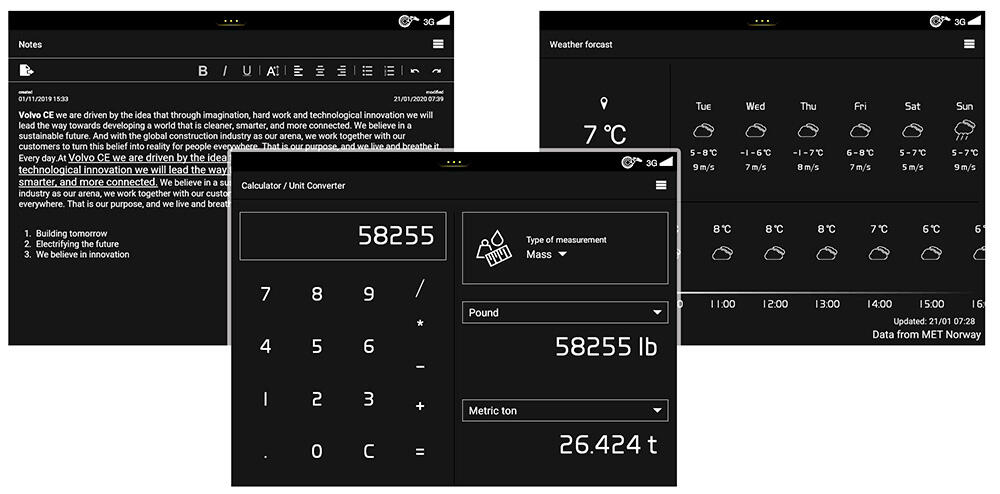 Even more to look out for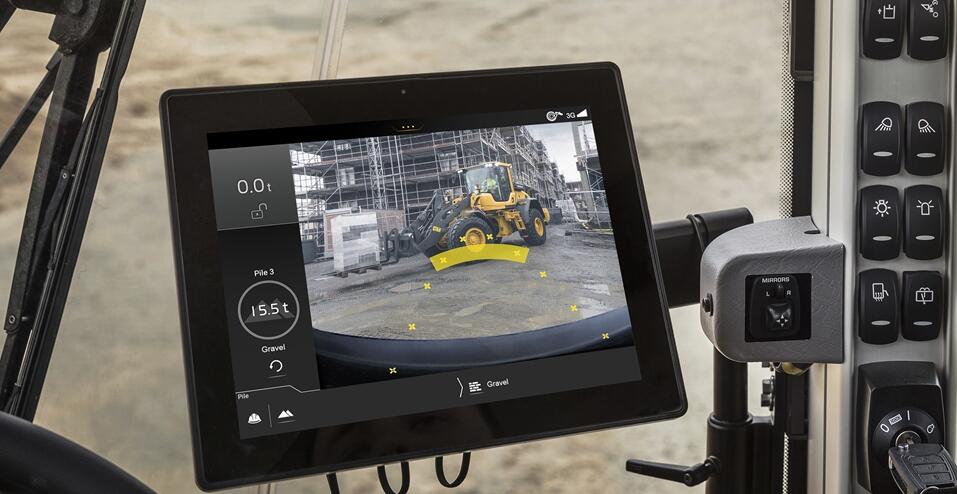 Several other existing features have also been upgraded.
When the Radar Detect System is ordered, it is now integrated into the Volvo Co-Pilot. This allows operators to benefit from rearview camera and load information, all displayed on a single screen for increased convenience and safety when reversing.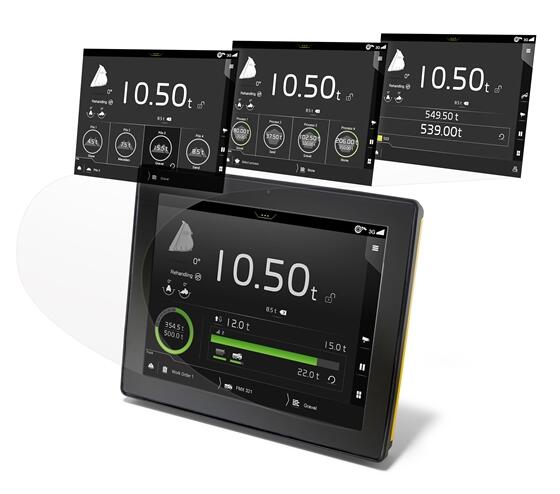 The final update is the addition of two new Task modes on the On-Board Weighing app. Operators can now choose from Trip Meter, Truck Loading, Stockpiling or Processing mode. Each mode will adapt the Volvo Co-Pilot screen layout and provide relevant information for the operator to be efficient in the different applications.