Volvo Construction Equipment (Volvo CE) unveiled its latest concept machine – known as the LX2 – to industry specialists, policymakers, the media and academics at the Volvo Group Innovation Summit on Wednesday September 12th. The electric compact wheel loader prototype delivers zero emissions, significantly lower noise levels, improved efficiency and reduced operational costs, compared to its conventional counterparts.

The LX2 was presented at the Volvo Group's fourth Innovation Summit – which was held in Berlin, Germany – alongside autonomous and electromobility innovations from across the Volvo Group. The event focused on infrastructure and transport in cities of the future as well as how new concepts can have a positive impact on society through increased transport efficiency, reduced environmental impact and improved traffic safety. At the summit, Volvo CE also demonstrated its EX2 fully-electric compact excavator prototype and presented the company's electric site research project.

The LX2 is a second-generation prototype that is part of a research project and is not commercially available. To make the machine electric, the combustion engine has been replaced with a lithium ion battery. This stores enough electric energy to operate the machine for eight hours in its most common applications, such as light infrastructure construction and landscaping. The LX2 also incorporates two dedicated electric motors, one for the drivetrain and one for the hydraulics. Decoupling the subsystems has led to higher efficiency in both the systems and the entire machine.

"The LX2 is a revolutionary zero-emissions prototype that offers improved efficiency and lower operational costs, without compromising on machine performance," says Ulrich Faß, Emerging Technologies Manager. "It incorporates the latest advanced chemistry battery technology. As it's electric, no particulate matter, nitrogen oxide or carbon dioxide are released into the environment. This, together with the fact that it has extremely low noise levels, makes it ideal for use in cities and densely populated areas, as it can be used without disturbing people. This is the same for the EX2 100% electric compact excavator, therefore the machines would be ideally suited to working alongside each other."


Like the LX2, the EX2 is also part of a research project and is not commercially available. The prototype machine delivers zero emissions, 10 times higher efficiency, 10 times lower noise levels and reduced total cost of ownership compared to its conventional counterparts.
CLEANER. QUIETER. MORE EFFICIENT.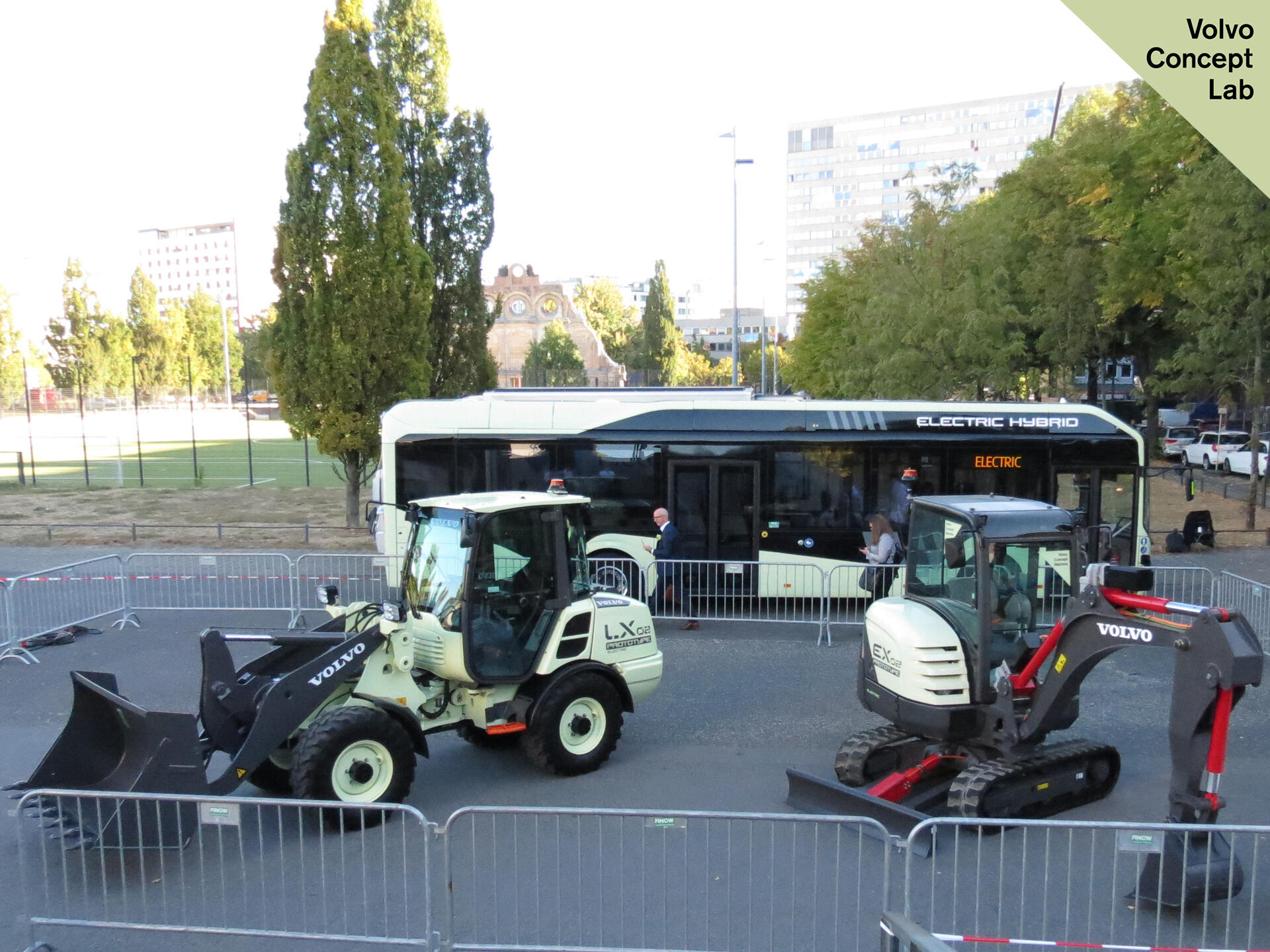 At the summit, Volvo CE also presented its electric site research project which aims to transform the quarry and aggregates industry by reducing carbon emissions by up to 95% and total cost of ownership by up to 25%. Volvo CE and its customer Skanska Sweden are currently testing the electric site solution in a real production environment for ten weeks at Skanska's Vikan Kross quarry, near Gothenburg, Sweden. The system incorporates prototype electric and autonomous machines including the HX2 autonomous, battery-electric load carrier, the LX1 hybrid wheel loader and the EX1 cable-connected excavator. These machines are part of a research project and are not commercially available.

"The electrification of construction equipment will produce cleaner, quieter and more efficient machines – this represents the future of our industry," concludes Patrik Lundblad, Senior Vice President of Technology at Volvo CE. "We are currently in a period of exponential technology growth and are at the start of a paradigm shift. At Volvo CE we are developing technologies connected to electromobility, automation and connectivity that will benefit our customers and the environment by contributing to increased machine performance, productivity, efficiency, safety and sustainability. Our future products and services will play an important part in building a sustainable society."