For just over a year, PT Manado Karya Anugrah has been using a fleet of machines from Volvo Construction Equipment (Volvo CE) to remove overburden at its coal mine in East Kalimantan, Indonesia. Together, the 10 R60D rigid haulers, six A40G articulated haulers and three EC750DL excavators produce roughly 1 million BCM per month.
"We chose Volvo over other brands because of the sheer productivity of the machines," said Rafiuddin Djamir, owner of PT Manado Karya Anugrah. "Conditions at our site are tough and we know we can count on the productivity and reliability of Volvo machines to give us the lowest cost per ton."
The site has medium to high gradients with limited room for manoeuvring, but the Volvo CE rigid and articulated haulers make light work of the slopes.
"Our operators particularly like the speed of the machines during a climb. They feel the machines have more power than others," he explained.
The Volvo R60D rigid hauler, in particular, has the highest rimpull power on the market, which makes it especially suited to high gradients.
Exceptional uptime
The success of the machines at the site is also down to their high uptime. The machines work 22 hours per day in two shifts, seven days a week so any unexpected downtime would significantly impact production and, therefore, profitability.
"The Volvos have a high availability for work, and we appreciate the machine features and dealer support behind this advantage," Rafiuddin Djamir said.
PT Manado Karya Anugrah purchased the fleet, which is servied by PT Indotruck Utama, the Volvo CE's distribution partner in Indonesia.
"So far there have only been a few minor issues but with the total support and quick response from our dealer, the problems were fixed immediately," he said.
PT Manado Karya Anugrah also owns Volvo L260H wheel loaders, which stockpiles ore at its gold mine in South Sulawesi.
"Overall, we have been extremely pleased with the productivity and uptime of our Volvo machines, as well as the high level of aftermarket support we receive from Volvo CE's distribution partners in Indonesia," Rafiuddin Djamir said. "This combination allows us to achieve our lowest cost per ton and highest profitability in operations. I look forward to many years ahead with Volvo as our business partner."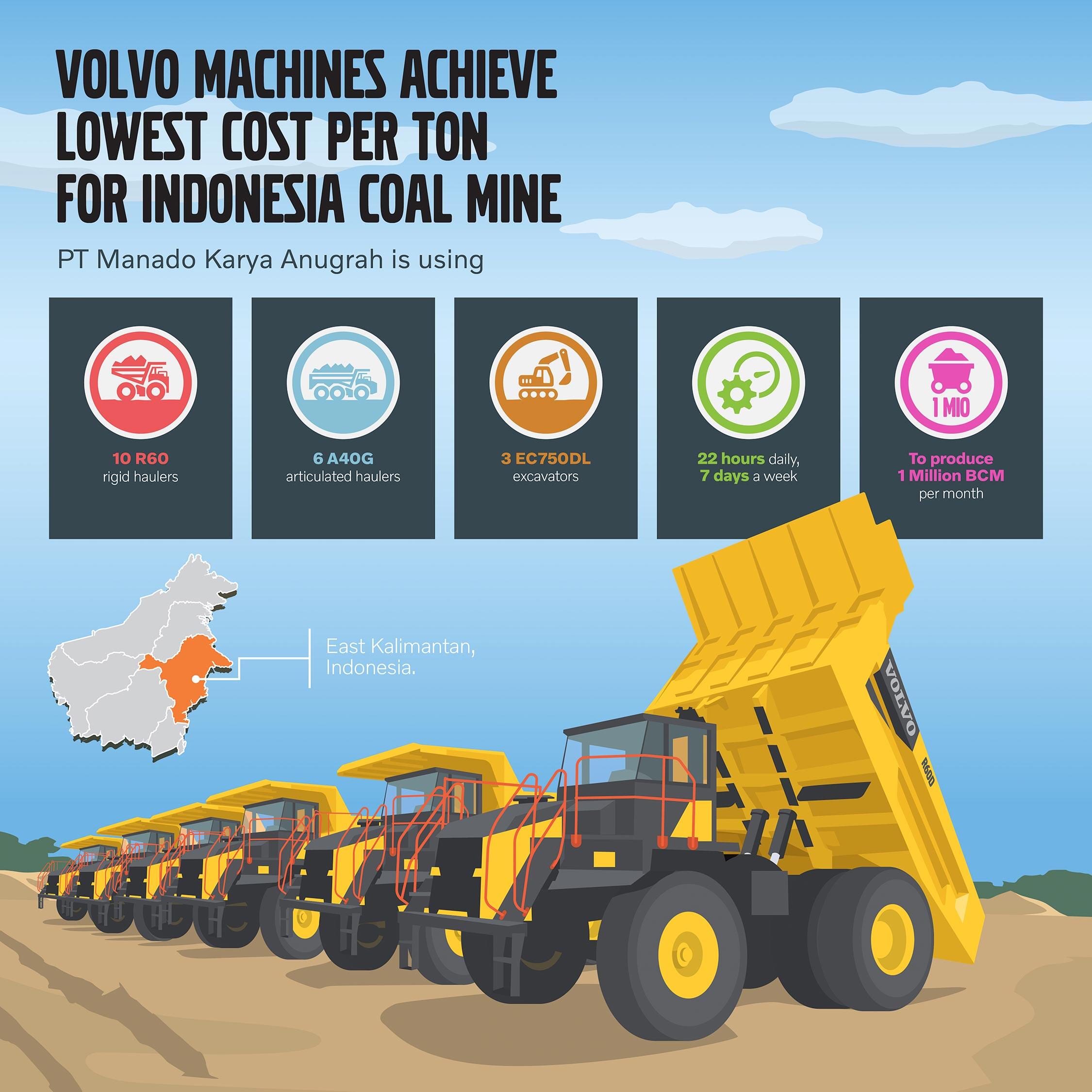 For further information, please visit: https://www.volvoce.com/indonesia