The Indonesia government is targeting annual production of 481 million tonnes of coal for 2018 and 2019, up 4 percent from the 461 million tonnes the country produced in 2017, according to Reuters. Amidst the push for increased coal production, some mine producers told Reuters they are struggling to get new heavy equipment and parts. For PT Grace Coal, a mining company based in Samarinda, East Kalimantan, that's not the case.

"We purchased our first Volvo EC950E excavator last November, and are very satisfied with the performance of the machine" said Arman Sugianto, director of PT Grace Coal. "The EC950E is very quick and the fuel efficiency by far is the best amongst our fleet of machines, which includes 120-ton excavators. We have recorded fuel savings as high as 33% with the use of EC950EL. Plus, the aftermarket support we received from IPPS was excellent, so we just added another EC950E this February."

PT Grace Coal's fleet includes 90-ton and 120-ton excavators along with 60-ton rigid trucks of different brands. Together the fleet removes 875,000 bank cubic metre of overburden per month.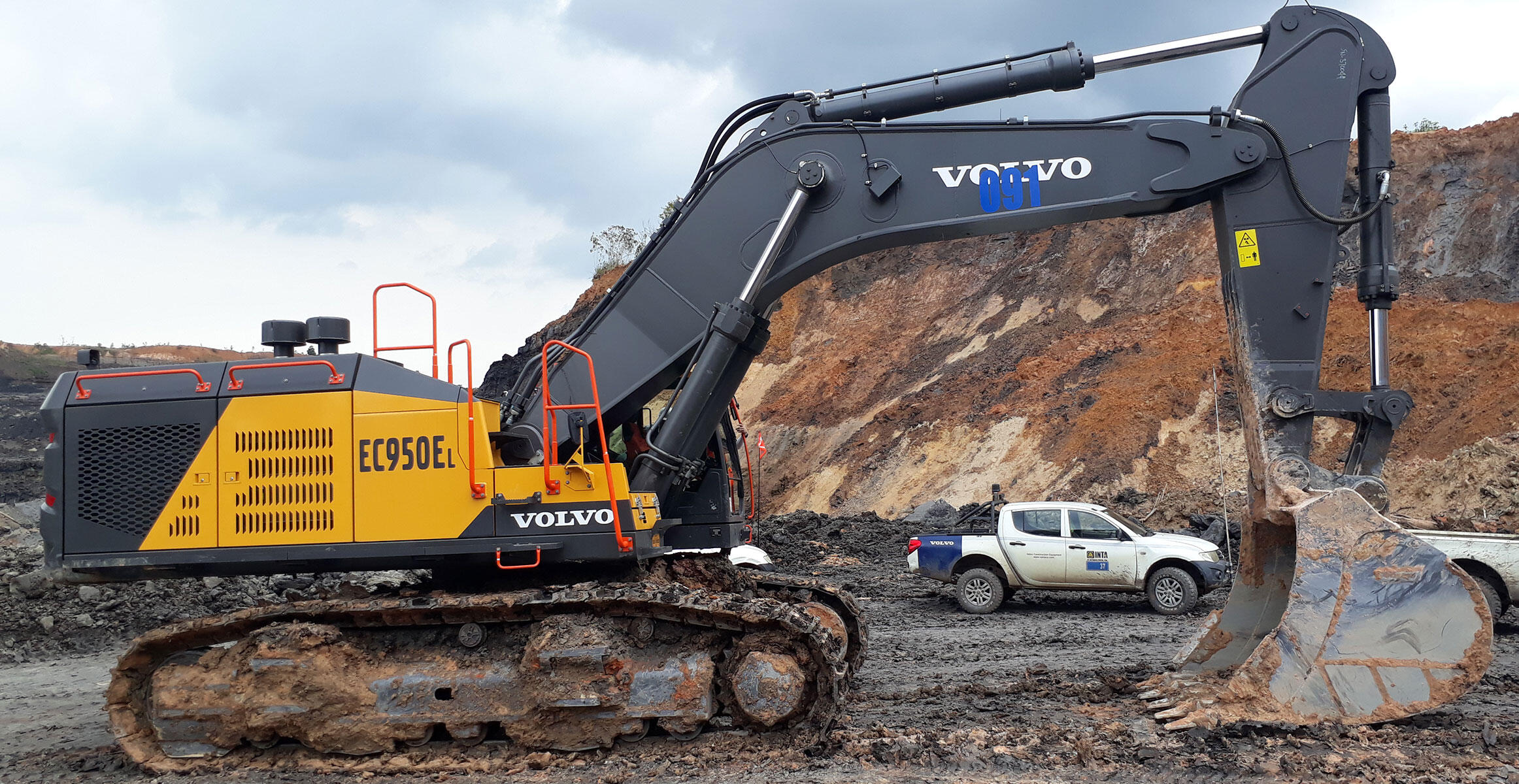 The EC950E excavator from Volvo Construction Equipment (Volvo) offers an ideal combination of power and stability, to handle high capacity duties in the toughest applications. With a bucket breakout force of 424 kN and an arm tearout force of 408 kN, the EC950E offers superior digging force, particularly when working with hard and heavy materials.
Powered by a 446 kW (606 hp) Volvo D16 engine, the EC950E utilizes advanced technology built on decades of experience to ensure highly productive operations. Cycle times are cut to a minimum thanks to the power and torque of the engine combined with the new fully electro-hydraulic system.

The EC950E features a wide track gauge, long track length, a retractable undercarriage and optimized counterweight, resulting in a well-balanced, solid machine. All machine interfaces—including joysticks, keypad and LCD monitor—are ergonomically positioned and designed for optimum control and efficiency. For increased versatility, the attachment management system enables the use of various attachments, allowing the operator to pre-set hydraulic flow and pressure through the in-cab monitor.

Sugianto purchased the EC950Es from PT Intracopenta Prima Servis (IPPS), one of Volvo's two distribution partners in Indonesia.

"To meet the government's increased coal production goals, our crews work in two shifts to operate the Volvo excavators 20 hours daily," Sugianto said. "Besides the EC950E's high performance, IPPS went above and beyond with their aftermarket services, ensuring we had the proper maintenance programs in place and supplying parts when needed, for maximum availability of the machine."