One of New Zealand's leading producers of sand and aggregates, Road Metals Co., Ltd, attributes its success to a loyal workforce and high-quality machinery. The forward-thinking business has just taken delivery of three of Volvo Construction Equipment's (Volvo CE) latest H-series wheel loaders, with industry-leading technology and fuel efficiency – the first to arrive in New Zealand.

Founded by Stan Francis in 1955, Road Metals can trace its relationship with Volvo CE back to 1979 when it purchased its first BM 4400 wheel loader. The company now owns a fleet of 53 Volvo CE wheel loaders, excavators and articulated haulers that operate across its various sites spread throughout the South Island of New Zealand. The 20t L120 wheel loader makes up the largest proportion of the fleet and the company's Managing Director, Murray Francis, is proud to take delivery of the latest models.

"The L120 is the perfect fit for our operation in terms of size, bucket size, speed and ease of transport," he says. "When the first L120 launched in 1994, I went to Volvo CE's factory in Sweden to see where the machines were built and a live demonstration. I was impressed with the professionalism of the staff and the manufacturing process. That year, we purchased a B-series model – and since then we've been the first company in New Zealand to take delivery of the L120C, the L120D, the L120E the L120F – and most recently, the L120H."

A cleaner, greener loader
Volvo CE is ranked as a leader in environmental care among the world's top producers of heavy equipment, and has demonstrated its commitment through becoming the first manufacturer to join the Worldwide Fund for Nature's (WWF) Climate Savers Challenge, and by supporting the association's Earth Hour initiative. The environment-conscious manufacturer goes one step further than trying to reduce its own emission by designing heavy equipment that has cleaner engines, runs more efficiently and reduces its overall impact on the atmosphere.

The latest generation H-series wheel loaders feature the Volvo D8J Tier 4 final engine and an all-Volvo powertrain that work in harmony to deliver power, reliability and performance. The L120H features Volvo's award-winning OptiShift technology that lowers fuel consumption by up to 18%, while Volvo's patented Reverse By Braking (RBB) technology senses the loader's direction and slows the machine when the operator wants to change direction by reducing engine rpm and applying the service brakes automatically. It also features Volvo's Eco pedal that applies mechanical push-back force when the accelerator is used excessively and engine rpm is about to exceed the economic operating range – all of these factors contribute to making the L120H the most fuel efficient model in its class.

Road Metals' General Manager, George Kelcher, explains: "We carry out a lot of load and haul operations on site because of our many mobile crushers. The H-series loaders offer the latest technology and the best of what Volvo can offer. This will really help us to reduce our fuel consumption further."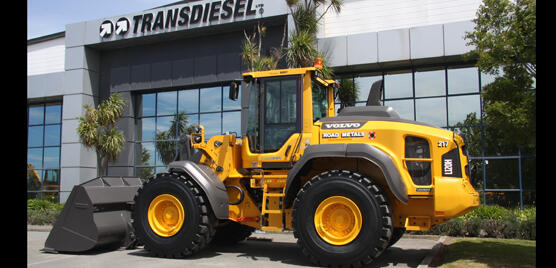 Operating in comfort and style
With a shortage of experienced machine operators in New Zealand, Francis recognizes the importance of retaining his staff – and the company has been very successful so far. "We are very proud that many of our operators who were using the B-series loaders are still with us today," he says. "The operators love Volvos because of the comfortable cab and ride."

Volvo cabs have been the leader in the industry for many years and are designed with the operator in mind. From the safe access points and ROPS/FOPS-certified frame to the full-suspension seat and single-lever control – everything is designed to maximize safety and comfort.

Don Parker, mobile crushing Manager at Road Metals, started operating an L120C in 1995 and was given two weeks to try it out. "If I didn't like it, the loader was going to be returned, but instead I ended up doing 10,000 hours in it," Parker recalls. "It was very comfortable and quiet, great to operate and good visibility."
Unrivalled productivity
Francis likes to keep up with the latest technology to ensure that his operations remain one step ahead of the competition. He owns a convoy of mobile jaw, cone, impact and Barmac crushers, as well as aggregate wash plants, sand watering plants and multi-deck screening plants to produce a vast array of sand and aggregate products. On top of that, his fleet of Volvo CE articulated haulers, including A40Ds, help to keep things moving on site, and the Volvo CE excavators, including the EC300DL, shift the heaviest loads.

His impressive fleet of 33 Volvo CE wheel loaders also includes L250Gs, L180Gs, L150Gs and older generations of the L120.

"Volvo really does deliver the full package in terms of high quality, productive machines and support services," says Francis. "We've had a long relationship with our dealer, TransDiesel, whose engineers go that extra mile to ensure our machines are in action. Long may our Volvo story continue." For further information, visit www.volvoce.com.


Ends.
Text: Holly Brace
March 2015
For further information, please visit: www.volvoce.com/press
Or contact:
Patrina Ng
Manager, Marketing & Communications
Volvo Construction Equipment
Tel: +65 6412 2871
Email: patrina.ng@volvo.com

Holly Brace
SE10
Singapore
Tel: +65 6408 3844
Email: holly.brace@se10.com